TASTE THE ARCTIC
Gourmet food prepared by your private chef
FINE DINING & BY THE CAMPFIRE
Among the highlights of staying at Fjellborg Arctic Lodge are the gourmet meals prepared by your private chef. Whether the meal is served at the lodge or by a trailside campfire, it will be carefully prepared and presented to showcase the unique flavours of the Lappish cuisine.
FISH, REINDEER AND GAME BIRD
Lapland is famous for its pure waters and the amount of fish in them. At Fjellborg Arctic Lodge you can try your luck at ice fishing and bring home the catch for the chef to prepare. Using an ice auger, your guide will help you drill a hole in the ice and set up your fishing gear for species such as perch, grayling and Arctic char. With 4 feet of ice, Lake Väkkärä is a safe place for ice fishing and a soft reindeer hide will keep you warm while you patiently lure those perch to the surface.
Reindeer is an essential part of the cuisine and sautéed reindeer served with potatoes and lingonberries is a classic dish not to be missed. In Arctic Lapland, no parts of reindeer go unused: the tender and lean meat is served as fillets, cold cuts, sausages and delicious air-dried jerky, to name a few examples. Besides reindeer and moose, festive dishes are often based on game birds such as willow ptarmigan, wood grouse and black grouse.
FROM NATURE'S LARDER
Foraging is an essential part of the Arctic culture and among the sought-after treasures are mushrooms, herbs, roots and berries. The golden cloudberry is the crown jewel of Lapland's wild berries, but blueberries, lingonberries and cranberries are all desired catches and widely regarded as superfoods.
At Fjellborg Arctic Lodge we strive to accommodate dietary requirements and preferences. Please advise us at the time of booking so that the appropriate arrangements can be made.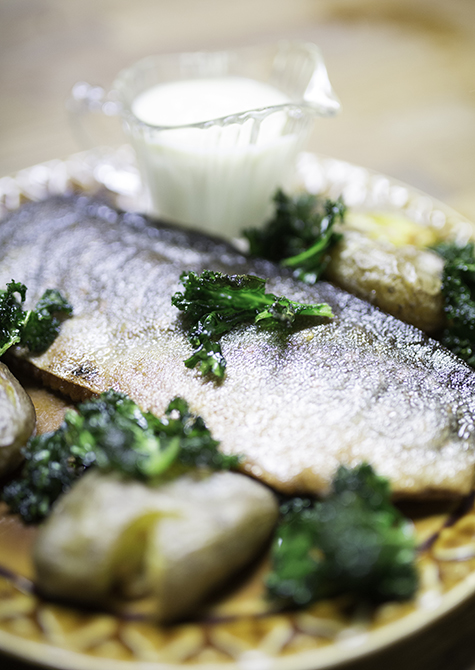 LEARN MORE ABOUT ARCTIC LAPLAND
A unique destination in Europe