BESPOKE EXPERIENCES
An Arctic experience tailored especially for you
TAILOR MADE EXPERIENCES
The secluded location in the unspoiled wilderness and the many activities on offer make Fjellborg Arctic Lodge the perfect choice for a memorable event, such as a romantic winter wedding or anniversary, a magical Christmas holiday or a bespoke experience for a group of friends who are looking to experience something new. We will assist you in every aspect of creating a perfect tailor-made itinerary for your trip.
RESERVE THE ENTIRE RETREAT
A holiday at Fjellborg Arctic Lodge is always an exclusive experience – the spacious Master Cabin is reserved for one party at a time and the activities are always privately guided. However, you can also opt to reserve the entire retreat, including the Main Lodge and the separate log cabins, and bring a group of up to 28 guests on an unforgettable holiday in Arctic Lapland. Rates are discussed on an individual basis depending on the level of logistics and organisation required. For details and pricing, please contact us at bespoke@fjellborgarcticlodge.com.
HELICOPTER TRANSFER AND PRIVATE JET
We have experience of all matters related to private jet arrival. Be it airport matters, pilot lodging, past midnight arrivals or having a team of sled dogs waiting for you to exit your plane. Please let us know if you will be arriving by private jet when reserving your holiday.
Helicopter Transfers can be arranged between Fjellborg Arctic Lodge and Kiruna Airport. For details and pricing, please contact bespoke@fjellborgarcticlodge.com.
If you have any questions or would like to discuss an idea for your Bespoke Experience, please contact us at bespoke@fjellborgarcticlodge.com or call +46 980 29060 to speak directly to Kenth and Ann Fjellborg.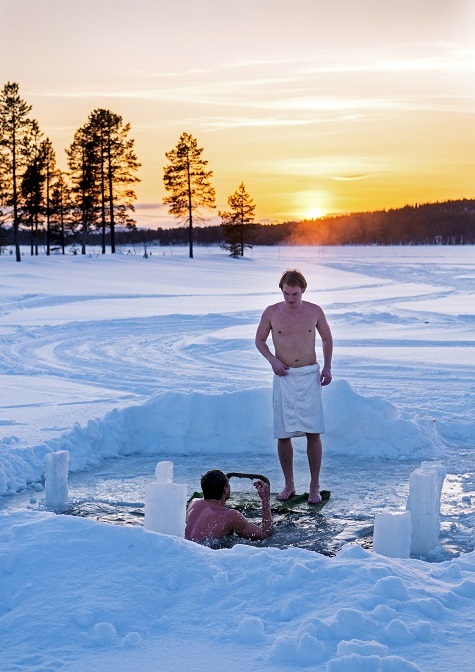 EVENTS & INCENTIVES
Experiences that inspire and motivate
CORPORATE EVENTS
Fjellborg Arctic Lodge offers the perfect venue for your next incentive trip or executive board meeting. The lodge accommodates up to 28 guests and the best way to arrive is via dog sled, snowmobile or helicopter. We are situated within easy reach from Kiruna Airport in northern Sweden.
With 25 years of experience we know how to arrange adventures that introduce you to the best of Arctic Lapland – comfortable lodge-to-lodge dog sledding trips with our home bred Fjellborg Alaskan huskies, guided snowmobile excursions, indigenous Sámi cultural experiences, visits to Icehotel in Jukkasjärvi, ice fishing, snowshoeing, ice sculpting and more. Let our experienced guides build your teams' cohesion through adventures that are tailor made for your group.
UNIQUE EXPERIENCE AND CAPACITY
We have experience and capacity to produce a wide range of activities and events. Together with leading Swedish outdoor brand Fjällräven we have co-produced the international dog sledding event Fjällräven Polar since 1997. In 2006, we hosted the preparation camp for H.S.H. Prince Albert II of Monaco's North Pole Expedition at Fjellborg Arctic Lodge. Our unrivalled knowledge and insight about Arctic Lapland make us an ideal partner for unique meetings, product launches and photo shoots.
If you have an idea for an event or incentive that you would like to discuss with us, please contact us at bespoke@fjellborgarcticlodge.com or call +46 980 29060 to speak directly to Kenth and Ann Fjellborg.
ARCTIC EXPEDITIONS
Our sister company FJELLBORG ARCTIC JOURNEYS arranges long distance dog sledding expeditions to remote corners of Swedish Lapland and beyond. The most extensive expedition package lasts thirteen days and crosses into Finland and Norway. Please contact info@fjellborg.com for more information.